Minutes after leaving work, you and your friends can be aboard New York's finest sportfishing charterboat catching some of the East Coast's most sought after gamefish while enjoying fabulous meal and a breath taking sunset reflected off the New York City skyline. That's the ROCKET fishing experience!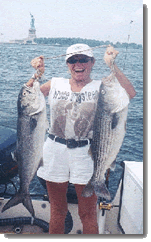 Come aboard straight from work, and change in our locker room or cabin into your most comfortable jeans, T-shirt, sweater, and sneakers. Emerge on deck with a beer and a snack--and thrill to a safe, comfortable high speed ride across New York Harbor.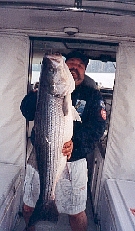 Within minutes you will be at some of the most productive metropolitan gamefishing spots in the east. Enjoy a meal as you catch some of the finest gamefish around. Finally, have your catch cleaned and return to shore at a reasonable hour, relaxed and rested for the next day's business.
All trips are "turn key." Everything is provided for one low price, including meals, bait, and tackle. All you have to do is show up and enjoy yourself.
Picked by New York Magazine as Best of
New York